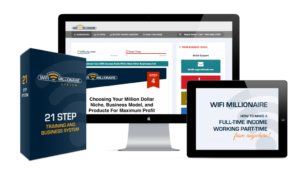 Can you imagine becoming a WiFi Millionaire? How does becoming an entrepreneur and living a laptop lifestyle appeal to you?  Making a full-time income working part time from anywhere?  It's funny because way back in 1999, a business consultant asked me "What do you know about the Internet?" I replied "Nothing". He advised me to find out all I could, as the Internet was going to be huge. How right he was.
In 2001 I started learning how to build websites focusing on creating a portal website for Stonehaven in Scotland where I have lived since 1977. I then started creating websites for local businesses and helped them with marketing on a part time basis at that time.
With laptops so much lighter and WiFi much more accessible. I can take my Apple Mac and my Ipad with me where ever I go and work where I choose.
Am I a millionaire yet? Not yet but I am loving the lifestyle.
Have I made mistakes? Yes hundreds. But that's how you learn.
Can you be a WiFi Millionaire?
The opportunities are much greater nowadays especially if you work with people who have walked the walk and talked the talk and yet still continuing to improve and learn how they can be of more service to others.
Being over 60 I can certainly relate to some of what is mentioned in this extract from the book WiFi Millionaire;-
>>>"Things have changed. Retirement and pension funds disappearing.Jobs are being lost or replaced at record rates and regular people all over the world are feeling the pinch, but there is a silver lining.
In fact, if you're willing to rethink everything you know about work, then you can take advantage of this new economy and make more money than you ever dreamed possible.
What am I talking about? I'm talking about escaping the nine to five, being your own boss, and working when and where you want to. I'm talking about making more money in 5 hours per week than most people make in 50 hours per week. I'm talking about becoming a WiFi millionaire with just a computer, a WiFi connexion, and a desire to succeed.
This may sound far fetched to you, and that's understandable. Through no fault of your own, you've been brainwashed by parents, teachers, and, otherwise, sensible people into thinking your life should follow a certain path. Go to school for 15 to 20 years, work a career for 40 years, retire comfortably (if you don't die of a heart attack first). Even if this fantasy were possible, which it's not anymore, it assumes that you're okay with working most of your life for a retirement fund that may be taken away at any time. That just seems like a waste of a life to me. I'd rather enjoy my life now, make money now, and have the time and freedom to work when and where I want and travel at a moment's notice."<<<
WiFi Millionaire clearly lays out your options for different home businesses and gives you actionable tips and tools for getting more done while having complete control over your schedule. By using these productivity tips, you'll learn how to filter out distractions and make more money in less time than you ever thought possible. In fact, some people make a very good income with the WiFi Millionaire system in only 30 minutes per day. Also, you don't need to be a computer genius or have any special training or skills to do this. All you need is a willingness to implement what you learned.
The amazing thing is you can get all this information for less than $5.