Is it still possible for a newbie to earn serious income with affiliate marketing?
In a word… yes.
Affiliate marketing still works and is a viable business for stay at home moms and dads. I know, because I earn thousands of bucks a month as an affiliate, and it's really not my main focus.
Here are some screenshots that show you a few of my daily commissions at JVzoo…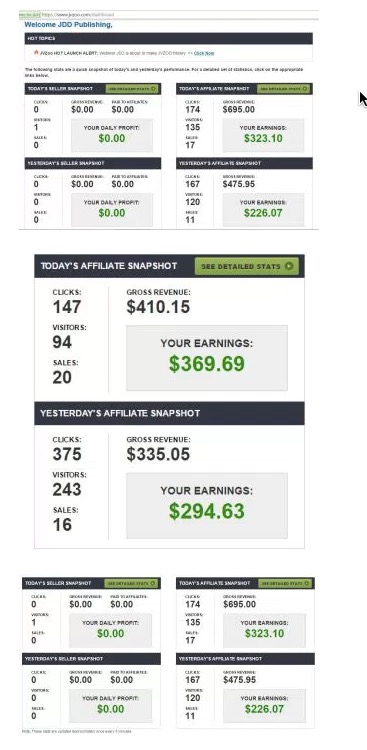 So how much money can you make with affiliate marketing?
Well, that all depends on you.
There are literally thousands of small merchants paying out thousands of dollars a month to affiliates via clickbank, JVZoo, in-house affiliate programs and other affiliate networks.
There are countless affiliate marketers and bloggers earning a full time income from home, and there's plenty of room for more.
In my humble opinion, affiliate marketing as a business strategy is still viable and will be for many years to come.
After all, affiliate marketing still has many advantages over many other online business models, specifically…
* You don't have to create products or buy inventory.
* Once you make a sale you're done — the vendor supports the customer.
* You can offer a wide product choice in your niche by offering products from many different merchants.
So how does one get into this field?
The first step is planning your affiliate business, and that involves choosing a market to work in.
This is absolutely the most crucial step. Do it right, and the sky's the limit. Fail here and you'll waste countless hours with no payoff.
For starters, you need to know focus on ONE niche and ONLY one niche.
It takes work putting a new site or blog, adding content and generating traffic, so working on just one topic is the best strategy, at least until you have the project earning money. Then you can consider expanding it or entering another niche altogether.
Here's what you'll need to get started:
You'll need a topic, a constant stream of helpful content, a site or blog, and a list building strategy. Let's talk about each one of these steps.
Choose Your Topic:
Start by choosing a niche topic that fits one of these criteria…
Markets with a lot of products/services that people buy year after year. These are called "evergreen" markets and they ensure long term viability of your affiliate business.
Markets with lots of products/services that people need to buy whether they like it or not. An example would be consumables, insurance, etc.
Markets with lots of desperate and/or impulsive buyers.
When entering a niche for the first time, look for sub-niches within those main target markets. This will help you get faster results, since there will be less competition in many cases.
Write (Or Buy) Your Content:
Once you have selected a niche to work in, you simply set your focus on helping people in that sub-niche. That's right, helping people, not selling things, should be your main focus. Especially early on.
As you help more and more people you will grow a following. More and more people will come to trust your advice. Then when you DO recommend a product or service, you'll get lots of commissions!
So how do you help people? With relevant, useful, insightful content. You know, articles, tips, videos, etc.
If you find writing a chore, you can simply hire out your writing to professional writers. I've entered many niches that I know little about. I simply search the web to find out what advice people want, then hire writers at textbroker.com to research and write original articles for me. I pay about $7 per article and it is well worth it considering I save about two hours every time!
Build Your Site:
This is easier than ever nowadays thanks to WordPress. Putting up a site with the self-hosted version of WordPress takes literally minutes.
And there are lots of themes available for affiliate marketers. You can use the theme that comes with WordPress or buy a premium theme if you want to save time and maximize revenue.
Once you have the theme installed at your WordPress site, get started filling your site with useful content that your niche audience is looking for. Remember to focus on helping people!
Build Your List:
Finally, you absolutely must focus your efforts on growing an email list of prospects. Yes, even with affiliate marketing, you need to grow an in-house email list. When people come to your site you have to do everything you can to get them onto your list, so they can see your future advice and recommendations!
You do this by giving something of massive value away — a training course, or a package of downloadable goodies your site visitors can't resist. If you have no time to create something like that, then buy it! There are tons of products in every niche imaginable that you can buy with Master Rights. That means you can brand them as your own and give them away. Just search the web for "your niche + plr" or "your niche + master rights".
Once you wrap your head around this theory and put it into action, you'll start growing a lasting affiliate marketing business that can generate income literally on demand.
In closing, affiliate marketing is here to stay. It is simply too lucrative for merchants to ever give up on it. And that means there will be affiliates earning money as well. Why not be one of them!
If you need help getting started with affiliate marketing, finding a niche, finding something to give away or setting up a list growing plan, grab my package here. It will help you profit from multiple channels online, including affiliate programs. It shows you exactly how I make money online…
Source: Authored by Jim Daniels – bizweb2000.com/affiliate-blogging/